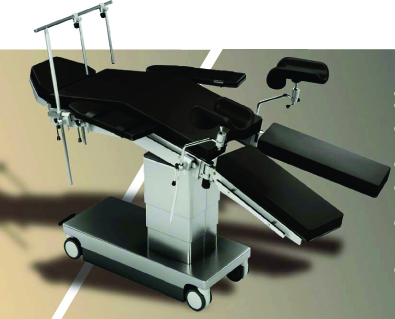 Model: Onex 102
Manufacturer: Sternmed
Origin: Germany
Onex 102 is an hydroelectric operating table that can be set up and positioned easily with remote controller. The interchangeable top is made of shape memory material to provide great comfort. With highly stable hydraulic system, the whole system can make all kinds of surgical positions, precisely and quietly.
CHARACTERISTICS (LOW TYPE)
-Special design for low position
-Design 4 parts to meet different requirements of the surgical position
-Acentric structure with T-shaped table body, convenient for using X-ray and C-arm (head and foot plate are not interchangeable)
- Stable hydraulic system with square column, high load capacity and low motion noise
-Stainless steel body structure with removable polyurethane pieces, anti-pollution, anti-corrosion and moisture-proof
-The handheld controller with touch keypad, safety lock for 30 seconds to avoid operation errors, backup battery is optional
-Fast assembly and disassembly with high quality pneumatic springs.
OSITION (STANDARD TYPE)
By adjusting the wide angle and flexible position of each part of the head, back and legs, the Onex 102 operating table can meet the different requirements of the surgical position.