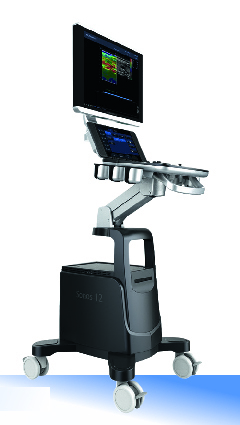 4D COLOR DOPPLER ULTRASOUND MACHINE
Model: Sonos 12
Manufacturer: SternMed
Made in: Germany
Sonos 12 is the state of the art of volumetric 3D/4D ultrasound system with perfect image quality of even 2D images. It is the best solution for OB/GYN, cardiology and general Imaging in clinics and hospitals with variety of patients.
Product Information
1. Machine structure:

Probe Plug Port: 04 Ports.

Storage: 500G

Touch screen

Trolley with 4 wheels with lock

Printer Shelves
​

Connections: RJ45, DVI...

Power consumption: 100 - 240 VAC, 50/60 Hz, 600 VA

Dimension: 810 x 635 x 1330 mm

Weight: 76 Kg
2. Image processing:

Adjust color gain and Doppler

Adjust background image

Correct kinetics

Enhance image clarity and reduce speckles

Calculations and Measurements

Full screen mode

Q-beam

Q-flow
3. Display:

High resolution color LCD monitor

Size: 19 inches

Adjustable brightness and contrast

Built-in speakers can adjust the volume
4. Image mode:

Mode B (2D)

Mode 2B

Mode 4B


Mode M


Mode B/M


Doppler pulses


Color Doppler


Color Doppler Energy


Doppler energy orientation


Waveform Doppler continuous


Mode Duplex


Mode Quadplex


Tissue mix


Picture trapezoidal structure
5. Probe:

3.5 MHz Convex probe ( 2.0 - 6,8 MHz )

7.5 MHz Linear probe ( 4.0 - 15.0 MHz )

12.0 MHz Linear probe ( 7.0 - 18.0 MHz )

6.0 MHz Trans-vaginal probe ( 4.0 -12 .0 Mhz)

7.5 MHz Trans-vaginal probe ( 4.0 -15 .0 Mhz)

2.5 MHz Phased array probe (Adult) ( 1.5 -5.3 Mhz )

5.3 MHz Phased array probe (Pediatric) ( 2.0 -8.0 Mhz )

6.0 MHz Pediatric Micro-convex probe ( 4.0 -15 .0 Mhz)

3.0 MHz Micro-Convex probe ( 2.0 - 6.8 Mhz)

4.5 MHz 4D volume probe ( 2.0 - 6.8 Mhz )