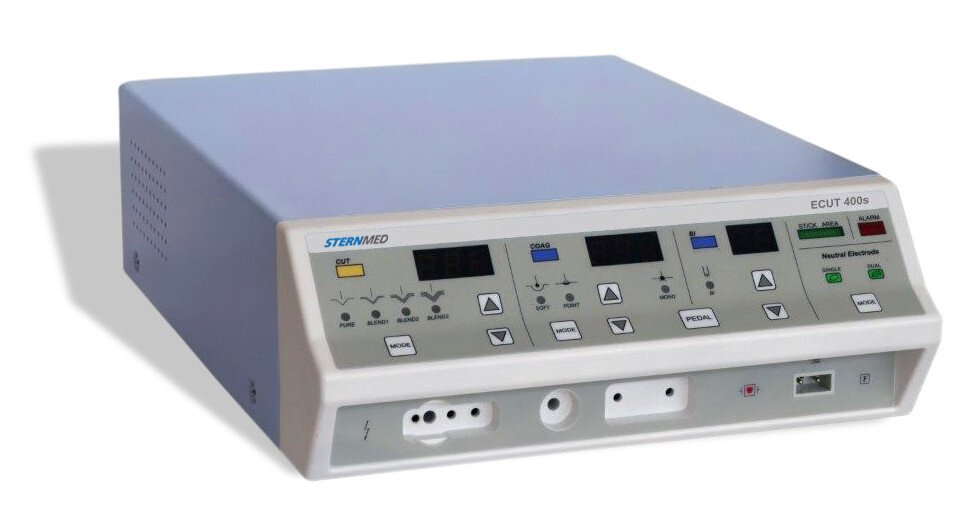 Model: Ecut 400s
Manufacturer: Sternmed
Origin: Germany
Ecut 400S is a versatile electrosurgical unit for all around surgical procedures through all types of tissue. It has integrated seven power output, tissue responding and automatic solid or split return electrode recognition functions, with which surgeons can perform highly precise and safe operations.
Compact Design
The ECUT 400S benefiting from an structural design and light weight make it mountable on support tray of ceiling pendant for endoscopic application.
Water Resistance Design
Thanks to its slightly protruding edge, any liquid on the control panel will never touch the outlet below if accidentally splashed in the operating room. Design the forward arrow that separates the working area from the accessory connections.
Control and measurement
Front panel of ECUT 400S consists of two differently sloped areas, 130 ° sloped "Measurement area"
and 160 ° sloped "Control area", to provide operator great physical comfort when they setup or adjust power setting and observe the power measurement and neutral electrode's contact situation from an ergonomic viewing angle and height.
Smoke evacuation (optional)
Heat-producing surgical methods (like electrosurgery or laser) mostly bring surgical smoke that
contain hazardous (like acrylonitrile and hydrogen cyanide) which may blur surgical vision
(especially for procedures into cavity) and cause harm to respiratory systems of patients, surgeons or operating theatre staff.
Auto-power
Resistance from nerve, muscle, adipose tissue and bone to electrical circuits vary. Impedance response technology in ECUT 400S electrosurgical system measures the tissue resistance then automatically adjust power output under pre-set range, to optimize real cutting or coagulation performance, which makes ECUT 400S system qualified for wide range of applications, from various open surgeries to minimal-access procedures, as well as under-water operation in Gynaecology and Urology.